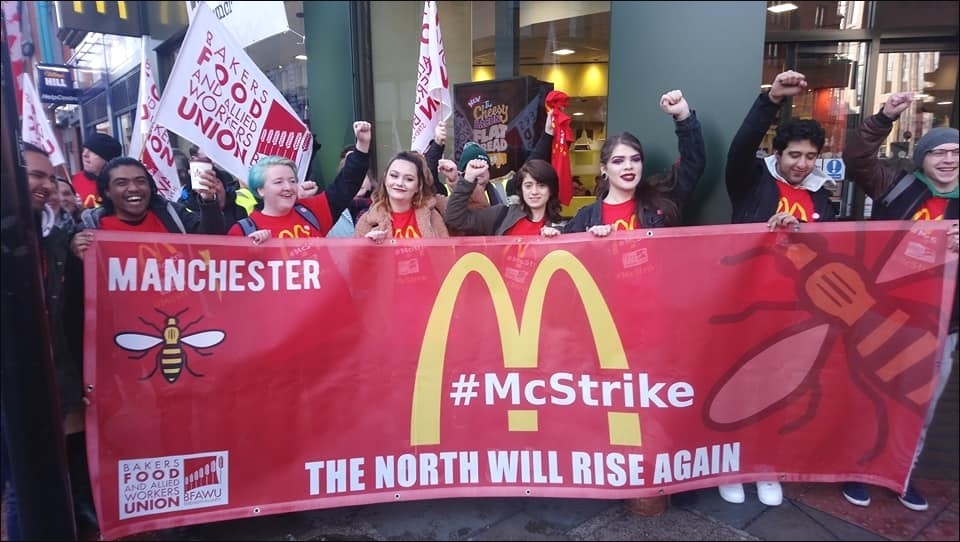 Please add your name to this call by using the form below. For a PDF version of this statement/petition you can download and print for use in meetings, etc, see here.
For our wider campaigning on the anti-union laws, including the statement you can put to your union branch or Labour Party, upcoming events and a link to order our new pamphlet, see here. We're also holding an organising meeting for this campaign in Brixton, South London, at 6.30pm on Tuesday 20 November. If you'd like to come or get more information, get in touch: theclarionmag@gmail.com.
"In August the anti-trade union laws were used to prevent PCS members from striking over pay, overriding the biggest ever strike vote by civil servants. 50,726 voted for action vs only 8,528 against – turnout 42pc, higher than most elections in Britain. In October they overrode a vote by UCU members, on a very similar turnout. These large votes were achieved despite onerous legal restrictions, and in the case of PCS determined attempts by civil service management to prevent union representatives from exercising their right to organise around, and speak freely about, their pay dispute and ballot.
"The reality is that strikes are largely illegal in Britain, as result of numerous laws introduced over almost four decades. In line with the unanimous votes at Labour conference in 2015 and 2017, all these anti-union laws, from Thatcher's 1980 Employment Act to Cameron's 2016 Trade Union Act, must be scrapped, and replaced with positive rights for workers and unions, including a strong right to strike. We call on the party to include this policy in its manifesto."
---
Sign here (for a full and regularly updated list of signatories see below)

All signatures are considered as in a personal capacity unless you tell us otherwise in final text box.
Please note that names are NOT added immediately to the list below
[contact-form to="theclarionmag@gmail.com" subject="I'm signing for union rights "][contact-field label="Name" type="name" required="1″][contact-field label="Email" type="email" required="1″][contact-field label="Trade Union" type="text"][contact-field label="Constituency" type="text" required="1″][contact-field label="Labour Party status" type="radio" options="Member,Supporter,Neither of above"][contact-field label="Momentum member?" type="select" required="1″ options="Yes,No"][contact-field label="Any positions held in labour movement" type="textarea"][/contact-form]

Matt Wrack, Fire Brigades Union General Secretary
Ian Hodson, Bakers, Food and Allied Workers Union President
John McDonnell MP, Shadow Chancellor of the Exchequer
Claudia Webbe, Islington South and Finsbury CLP, Labour NEC member
Ann Henderson, Edinburgh Southern CLP, Labour NEC
Pete Willsman, Oxford East CLP, Labour NEC
Jenn Forbes, Truro and Falmouth prospective parliamentary candidate, CWU
Lauren McCourt, Bakers' Union executive
Cate Murphy, Unite 422 Chair, Liverpool Riverside CLP Secretary
Mark Rowe, FBU NW Regional Secretary
Gary Heather, Islington North CLP, CWU
Celia Dignan, Hornsey and Wood Green CLP
Simon Hannah, Lambeth Unison co-secretary
Ruth Cashman, Lambeth Unison co-secretary
Guy Rubin, Harrow West CLP
Harry Shaw, Stourbridge CLP Treasurer, USDAW
Steve Shelton, FBU North West region Treasurer
Anita Kennedy, CWU Youth activist, Lewisham West CLP
Riccardo La Torre, FBU Eastern Region Secretary
Charlotte Austin, Oxford University Labour Club co-chair, National Policy Forum member
Debbie Breen, PCS Organiser/London Regional Treasurer
Shazia Amir, PCS rep
Jennifer Watts, PCS East London Treasurer
William Gadd, PCS East London Organiser
Terry McLoughlin, PCS Health and Safety Rep, Regional Equalities Officer
Jewel Toropdar, PCS rep, Barking
Umesh Thiagorajid, PCS rep, Barking
Omotoke Alabede, PCS rep, City Tower
Chidio Sudiya, PCS
Samuel Harper, PCS Young Members
Andrew Morris, PCS Lambeth and Southwark
Rashpal Parmar, PCS Brent, Harrow and Hillingdon
Jason Lansbury, PCS Brent, Harrow and Hillingdon Branch Secretary
Sharon Lesley, GMB @ PCS
Christine Gathumbi, PCS Poplar Jobcentre Plus
Mushiur Rahman, PCS Popular JCP
Stephen Thomas, PCS Fulham JCP
Teresa Power, PCS Romford JCP
Abdiraza Abd, PCS Harrow, Brent and Hillingdon
Sacha Ismail, editor of The Clarion, Unite member
James Bloodworth, National Union of Journalists
Daniel Round, Dudley Momentum Chair, editor The Clarion
Catrin Herdman
Ben Selby, East Midlands FBU
Ed Whitby, Newcastle City Unison, Newcastle East CLP
Karen Daniels, Unite NEYH Local Government Branch Secretary
A. Downie, Hackney North and Stoke Newington CLP
Myra Sands, Equity, Unite
W. McLaughlin, Clydebank CLP Chair, Unite shop steward
Elizabeth Gill, Unison, Clydebank CLP
Gerry Poole, Riverside CLP
Mick Gilgunn, Islington North CLP, Unite
Dave Minahan, Liverpool West Derby CLP
Steve Gibbons, Putney CLP, Unite
Ryan Barnett, Wimbledon CLP, Unite
Lauren Bell, Labour International
Richard Hanford, PCS and Unite
Helen Fentiman, Cities of London and Westminster CLP
Cathy Nugent, NUJ
Ben Towse, UCU
Gemma Short, NEU
Kate Harris, NEU, Hornsey and Wood Green CLP LGBT+ Officer
Kieran Miles, Tooting CLP, Unite
Mark Crawford, East Ham CLP
Ray Brunnock, Newport East CLP, USDAW Health and Safety/Organising Officer
Luke Hillyard, Streatham, Unite
Daniel Randall, RMT Bakerloo Line Branch Vice Chair
Michael Waller
Wendy Hellam, Islington North CLP Organising Officer
Paul Cooper, Islington North CLP GC delegate
Phil Walden
Clare Wildey
Matthew Case-Legge, Old Bexley and Sidcup CLP
Tracy Millard, Gloucester CLP, USDAW rep
Nicola Marshall, CWU
Vinothan Sangarapillai, Unison, Hornsey and Wood Green CLP
John Harwood, New Forest West CLP, Prospect
John Leher, NE Bedfordshire CLP, GMB
Brad Baines, Milton Keynes South CLP
Sandra Varga, USDAW
Martin Devaney, Unite
V. Jackson, Knowsley CLP, Unison
Paula Simpson, RMT
Glen Mynott, South East Cornwall
Steve Farley, PCS full time officer
Maisie Sanders, Lewisham Deptford CLP EC
Rida Vaquas, Tamworth CLP, editor of The Clarion
Mark Catterall, Unison
Pete Firmin, CWU, Hampstead and Kilburn CLP
Andrew Peak, Oxford and District Labour Party Joint Youth Officer
Rebecca Lawrence, Lewisham Deptford CLP GC delegate, Unite SE London Health branch secretary
Melanie Guilfoyle, Wallsey CLP, Wirral Trades Council, Unite
Nik Barstow, Stretford and Urmston CLP, Trafford Trades Council secretary
Chris Allen, Leicester West CLP
Cathy Augustine, Wantage CLP
Tim Hayden, Liverpool Riverside CLP
Mary Whitby, West Lancashire CLP, Unite Community
Marie Walsh, Unison
Andy Warren, PCS, Lewisham Deptford CLP GC delegate
Edd Mustill, GMB
Adam McNamara, Liverpool Riverside CLP, Unite
Maureen Cooper, Unite Community
Ian Jewesbury, Battersea CLP
Colin Carr, Unite Regional officer
Pat Page, Dundee CLP Women's Officer, Unison
Angela Lyall, Dundee CLP Treasurer
Janet Cashman, Walllsey CLP
Benj Eckford, North West Durham CLP, GMB
Monty Shield, Horsey and Wood Green
Graham Martin, York Central CLP
Dylan Harrison, Wrekin CLP Secretary
Daryl Gordon, Ogmore CLP
Kirsty Haigh, Edinburgh Southern CLP
Neil Seephjak, PCS officer
L. Lloyd, PCS officer
M. Kelsey, PCS officer
Kristian Rowe, PCS
John Lynch, PCS
Pat Wilkinson, Hull North CLP
Carol Turner, Vauxhall CLP, Unite
David Hide, Horsham
Mel Stuforth, Sutton Coldfield CLP, Unite
Tony Lundbeck, Riversity CLP
Ben Hayes, Islington North CLP
Rachael Barker, Rossendale and Darwen CLP
Josephine Grahl, West Ham CLP
John Whitworth, West Ham CLP
Amanda Eccles, Coventry NE CLP
Gareth Langston, Reading
Helen Caney, Reading West, Unison
Chris Reilly, Reading West CLP EC member, RMT
Alan Smith, Sandbach Branch Secretary
Chris Kuriata, Birmingham Selly Oak CLP, Unite Community
Cath Christen, Birmingham Hall Green CLP, Unite Community
Sarah Tevesham, Birmingham Hall Green CLP, Unite Community
Steve Price, Warley CLP, West Midlands CLP
Maria Carroll, Carmarthen East and Dinefwr CLP Secretary
Louise Tarbuck, Preseli Pembrokeshire CLP Secretary
Philippa Clements, Carmarthen West and South Pembs CLP
Zimeon Jones, Unite
Saira Afzal, PCS
Amy Nicholls, Luton North CLP
Antonia Ryan, SW Bedforshire CLP
Rachel Hopkins, Luton South CLP
Teresa Beddis, Meriden CLP
Geoff Dixon, Stourbridge CLP Secretary
Terry Conway, Islington North CLP LGBT+ Officer, Islington Unite Community Chair
Ross Charnock, Rossendale and Darwen CLP
Ana Wackett, Birmingham Perry Barr CLP
Francis Prideaux, Westminster North CLP
Diana Stockford, North Worcestershire CLP
Paul Bonell
Carol Riley, Wanstead CLP
Alison Morris, Unite
Keith Edwards
James McGuiness, Dundee West, Unite, Branch Chair
Andy Thompson, Unite
Jae Robinson, Birmingham Unite Community
Steve Gower, Gloucester Unite Community
D. Smith, Gloucester CLP
S. Smith, Luton South CLP
R. Smith, Luton South CLP
Lionel Openshaw, Lewisham Deptford CLP GC delegate
Chris Whittaker, Nottingham South CLP
Chris Barnett, Stourbridge CLP
Ellen Cobb, Stourbridge CLP
Su Lowe, Stoubridge CLP
Carolanne Lello, Stourbridge CLP
Karen Purdy, Stourbridge CLP
Ollie Bowen, West Suffolk CLP
Tricia Clarke, CWU
S. Walker, Garston and Halewood CLP, Unite
Sarah Choonara, GMB, former Unison shop steward, Sheffield Heeley CLP
Neil Macpherson, Unite, Sheffield Heeley CLP
Alison McGarry, Islington North CLP Chair
Suzanne Thomson, Lewisham Deptford CLP Trades Unions Liaison Officer, Unison
Josh Chown, Hornchurch and Upminster CLP, USDAW
Daniel Nicholas, Romford CLP Political Officer, Unison
Vince Williams, Lincoln Trades Council President, Unison
Obi Saiq, Hackney South CLP Youth Officer, Picturehouse BECTU union rep
John McGrath, Lewisham Deptford CLP
Martin Donohue, Harrow West CLP, Unite
Eugene Dalton-Ruark, Ruislip, Northwood and Pinner CLP, Unite
Tim Cooper, GMB rep, Nottingham East CLP
Adrian Barker, Benfleet CLP
Rosemary Waterhouse, Mid-Worcestershire CLP
Rajan Naidu, Lewisham West and Penge CLP
Carol Reid, St Helens South CLP, Social Workers Union National Organiser
David Cleaton, Caerphilly CLP
Nick Grant, former Ealing NUT branch secretarya and NUT NEC member
Geoff Barr, Exeter CLP, UCU
Ame Anastasiu, PCS, Hove CLP
Helen Lentell, Leicester South CLP, Leicester LCF chair
Adrián Sánchez, Harrow, Unite
Bob Jeffery, Sheffield TUC Chair, UCU Yorkshire and Humber Regional Executive, TUC Yorkshire and Humber Regional Executive
Michael Howard, Hastings and Rye CLP Vice-Chair, Unison
Mandy Williams, Liverpool Riverside, Unison
Paul Swift, Unite, Broxtowe CLP
John Mason, Uxbridge CLP
Glen Shakespeare, Southampton Test CLP, Unite Community
Kevin Hayes, Unite, Romsey and Southampton North CLP
Ruth Corbett, Trafford CLP
Eleanor Lakew, Unite
Carol Milner, Coventry North West CLP
Liz Douglas, Enfield, Unite
Bob Archer, NEU-NUT District Officer, West Ham
Rebecca Austin, Social Workers Union, Lincolnshire
Jackie Lederer, Portsmouth South CLP, PCS
Carol Eyre, Meon Valley CLP
Mark Hollinrake, PCS and Unite, Rochdale CLP
Margaret Fryde, Cambridge CLP
Maggie Thomas, Ashton CLP
Ronald John Howell, NEU, Warwick and Leamington CLP
John Moloney, PCS Department for Transport Group Executive, Slough CLP Trade Union Liaison Officer
Susannah Lord, Unite Community, Norwich South
Andy Thomas, Vauxhall CLP
Sharza Dethick, Unite, Stockport CLP, Unite National Women's Committee, Local Authorities RISC
Paul Crimmins, Harrow West CLP, Unite
Fiona Norman, Welwyn Hatfield CLP
Dave Berry, Sheffield Central CLP, GMB
Chris Helm, Knowsley, PCS
Gordon Scrim, Unite, Dundee
Peter Wright, Broxbourne CLP, GMB
Mick Kennedy, Unite, St Ives CLP
Geoff Taylor, UCU, Oxford West and Abingdon CLP, Kidlington and Yarntin Branch Labour Party
Tom Gallahue, Hounslow, NEU
Michael Chessum, Streatham Hill ward secretary, Unite
Martin Mayer, Sheffield Heeley CLP, Unite, Sheffield TUC Secretary
Christie Neary, National Education Union, Croydon South CLP
Janine Booth, RMT Disabled Members' Advisory Committee Chair, TUC Disabled Workers' Committee
Dave Church, Walsall Socialist Group, Unite
Ian Townson, Secretary, Lambeth and Southwark Unite Community
Nick Jones, PCS, Leeds North East
Rowland Edmonds, Rhondda Cynon Taf CLP
Stephen Pritchard, Chair, Crawley CLP, ASLEF
Mark Coverdale, Islington North CLP
Roger Luffman, TSSA, Bournemouth West CLP
Alex Thomas, CWU, Torfaen CLP
John Shaw, Easington CLP, Unison
Thomas Fallows, Morecambe, GMB
David Anderson, Unite, Bridgend CLP Political Education Officer
Clare Copeland, Nottingham South CLP, Unison, Regional Women's Committee Co-Chair
Alison Brown, Sheffield Heeley CLP, Gleadless Valley Labour vice chair, Yorkshire Ambulance Branch Unison South Area
Bill Walther, NEU, Lewisham Deptford CLP GC delegate
Duncan Morrison, Lewisham Deptford CLP GC delegate, Lewisham NEU (NUT) Assistant Divisional Secretary
Stuart Jordan, Unison, Lewisham Deptford CLP GC delegate
Linda Bora, Chorley CLP, Royal College of Midwives
Councillor Jim Sharkey, Paisley CLP, Unite
Mags Shopwood, NAPO, Truro and Falmouth CLP
Bridget Cooke, Bristol South CLP, Unison
Chris Killer, North Dorset Labour
Tony Byrne, RMT, Newark CLP
Let us know what you think? Write a reply? theclarionmag@gmail.com