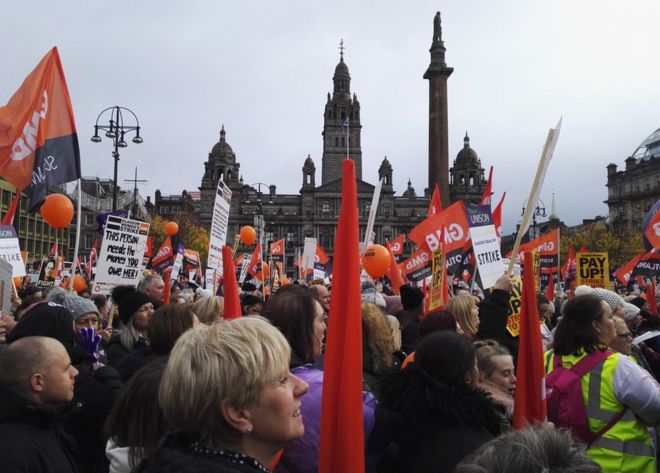 By Rick Parnet
In response to Glasgow refuse workers, street sweepers and parking attendants refusing to work in solidarity with striking home care, cleaning and catering workers, Glasgow city council has threatened their union, the GMB, with legal action under the anti-union laws.
Strikes in solidarity with another group of workers are illegal. So are strikes without a postal ballot and lengthy notice period. The situation is an absurd one where workers can take such action without union support if they can get away with it – but unions are liable if they organise or support such action in a way that would give the workers legal protection as official strikers.
Glasgow's SNP council began by threatening disciplinary action against individual workers and now, having backed off from that, changed its mind about what is going on and threatened their union. Then it backed off from that too and started making more vague, general threats. A senior official quoted in the Guardian as saying:
"We are not going to take them to court but we cannot just accept that wildcat strikes are part of the landscape. It is unacceptable to just shut the city down without giving us a chance to plan for it and to mitigate the damage, or address the concerns of workers who are withdrawing their labour…"
The GMB has insisted it is not organising the solidarity action, but its officials on the ground have firmly stated that the workers are acting legitimately in organising it. That is good. Once again we quote our former editor, GMB Scotland organiser Rhea Wolfson:
We will not be bullied by any employer, much less Glasgow city council. It is shameful an employer like Glasgow has threatened to use Tory anti-trade union legislation against working-class women, and working-class men who have huge sympathy for these women.
Solidarity and militant action disrespectful of employers' desire to prepare strike-breaking are precisely the the way to win. We absolutely need to make them "part of the landscape" again! And we must step up our fight to scrap the laws that make the kind of effective action workers in Glasgow have taken so difficult.
Let us know what you think? Write a reply? theclarionmag@gmail.com