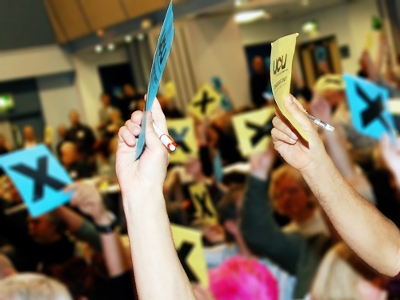 The following statement is being cirulated by Unite members. To add your name, please email nineteensixtyseven@gmail.com, including your branch and position if any. For the events of UCU Congress, see here.
"As Unite members, we express our solidarity with rank-and-file UCU members, after their union's officials repeatedly shut down their congress to prevent discussion of motions critical of UCU General Secretary, Sally Hunt.
"These motions were submitted well in advance and had been accepted by the Conference Business Committee. No attempt was made to raise concerns before the congress.
"The actions of UCU full-time officials in walking out of the union's Congress are unprecedented in the history of British trade unionism. This was an abuse of trade union principles by the Unite branch to which UCU full-time officials, including the General Secretary, belong.
"These actions constitute interference in the democratic processes of another union – something Unite would rightly not accept another union doing to it.
"It is the legitimate business of a trade union's congress, the sovereign democratic decision-making body of the union, to both hold the General Secretary accountable and review the democratic structures of the union (including the role of full time officials). This is not a threat to the terms and conditions of union staff members.
"This is a matter of who controls the union: the officials or the membership? We support rank-and-file UCU members and the principle of member-led unions."
Signed (personal capacity)
Liam McNulty, Unite Central London Voluntary Sector branch LE524
Michael Chessum, Unite Central London Voluntary Sector branch LE524
Alena Ivanova, Unite Central London Voluntary Sector branch LE524
Apsana Begum, Unite Community Tower Hamlets LE 00012
Pete Campbell, Doctors in Unite
Emma Runswick, Doctors in Unite
Dave Kirk, Unite NE 204/4 (Npower)
Stan Crooke, Glasgow Unite Not for Profit branch, SC/164/403
Jim Denham, Unite NASUWT Staff Branch WM/7025
Rosie Woods, Unite
Vijay Jackson, Unite Community – Edinburgh Branch SC/100C6
Bruce Robinson, Unite Community, Greater Manchester, former member AUT
James Devine, Unite Central London Voluntary Sector branch LE524
Sacha Ismail, Unite Central London Voluntary Sector branch LE524
Ian Townson, Secretary, Lambeth and Southwark Unite Community
Gareth Murphy, Camden Unite Community
Gavin Everall, National Publishing and Media Branch
Beth Granter, Unite
Steven Carver, Unite Community Tower Hamlets LE 00012
Paula Bodington, Unite Community Tower Hamlets LE 00012
David Thomas, Unite Branch LE/7361L
Joshua Bennett Lovell, Unite Member, Stevenage
Kieran Miles, Unite LE/7337L
David Stewart, 20723886, Branch NE/410/6
Pauline Gibbons, Liverpool Unite Community Branch
Dennis Leech, Treasurer, Tower Hamlets Unite Community Branch
Mark Bebbington, Greater Manchester Unite Community Branch
Liam Conway, Minuting Secretary, Nottingham Unite Community
David Thomas, Unite Branch LE/7361L
Stuart King, Chair, Lambeth and Southwark Unite Community
Chris Blenkin, Unite
Urte Mackine, Unite Central London Voluntary Sector branch LE524
Chris Allen, Unite Health, Leicestershire
Dave Gay, Lambeth and Southwark Unite Community, Southwark Trades Council
Sheila Ravnkilde, Nottingham Unite Community
Kristian Ravnkilde, Unite Community, Nottingham South branch
Aubrey J Evans, North Notts Unite Community Branch EM/NG 100c, ESOL facilitator – Sports Direct
Rob Lugg, Unite Branch LE/427